Love is in the Bin
Pouco ou nada se sabe sobre o misterioso inglês Banksy, há quem diga, inclusive, que se trata de um grupo de pessoas. O que se sabe é que os polêmicos trabalhos aparecem ao redor do mundo e encantam ou revoltam aqueles que passam: ninguém passa incólume a essa arte de rua.
Os trabalhos de Banksy podem ser encontrados na Inglaterra, na França, em Viena, em São Francisco, em Barcelona, nos Estados Unidos, na Austrália e até na Faixa de Gaza.
Irônico, controverso, sarcástico, rebelde, irreverente, as obras de Banksy são feitas na rua e para a rua, tem como público alvo os transeuntes. Como a maior parte das peças está em espaços públicos, o trabalho é sujeito a perenidade do tempo e ao vandalismo.
Girl with Balloon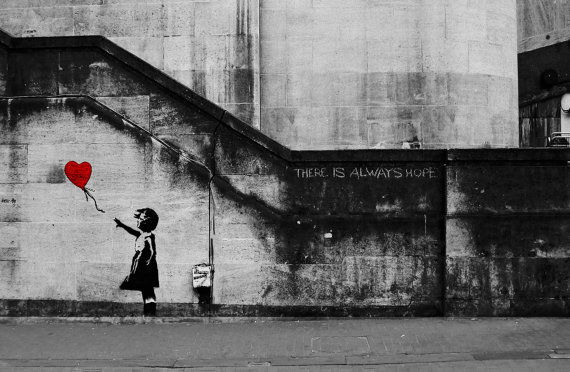 Criado em 2002, em South Bank (Londres), o painel ilustra uma pequena menina que perde o balão em formato de coração. Ao lado da ilustração, feita em preto e branco com apenas mais uma cor de destaque (o vermelho do coração), encontra-se uma frase disposta: "There is always hope". Feito em stencil, Girl with Balloon já foi replicado algumas vezes e é dos trabalhos de Banksy mais reconhecidos.
O leilão e a autodestruição
A obra mais conhecida de Banksy ganhou ainda maior notoridade após o acontecimento do leilão da Sothesby de 05 de outubro de 2018. Após ser vendida por cerca de 1 milhão de libras, a obra se autodestruiu logo após a sua venda, para espanto de todos os presentes.
A versão em tela da obra de Banksy foi cortada em tiras até sensivelmente metade.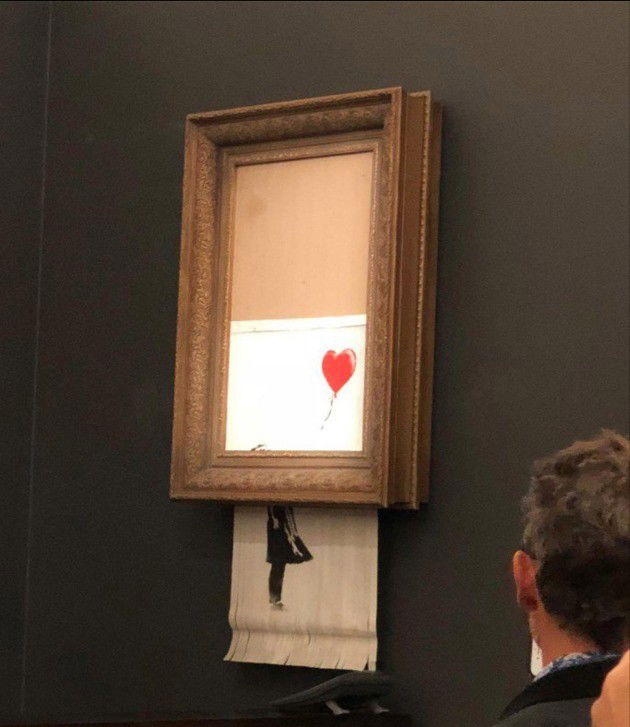 Minutos depois de o quadro Menina Com Balão ser arrematado na casa de leilão Sotheby's, em Londres, a tela se autodestruiu.
A Pest Control, uma empresa que atua representando o misterioso artista, intitulou a obra de Love is in the Bin (O amor está no lixo, em tradução livre).
A Sotheby's confirmou que o preço final será pago pela nova dona mesmo após a pintura ter "danificado a si própria". A mulher europeia que comprou o quadro, que não quer ser identificada, disse: "Num primeiro momento, fiquei chocada, mas logo entendi que teria comigo um pedaço da história da arte."
Destruição planejada:
Em outro post, Banksy explicou por que fez o quadro.
O vídeo mostra uma pessoa de capuz instalando a máquina na moldura. Em seguida entra uma legenda que diz "para o caso de um dia ir a leilão".
Alex Branczik, chefe da parte de arte contemporânea da Sotheby's, disse que a casa de leilão está "feliz de confirmar a venda da obra recém-intitulada Love is in the Bin, a primeira obra de arte da história a ser criada ao vivo num leilão".
Love is in the Bin ficará exposta ao público na galeria da Sotheby's em Londres durante o fim de semana.