Banksy
Características das obras de Banksy
Embora os trabalhos sejam muito diferentes uns dos outros, é possível encontrar alguns traços comuns. Os graffitis foram feitos em espaços públicos, geralmente de madrugada, sem autorização de nenhuma entidade governamental.
Em geral carregam um forte cunho político, fazem uma crítica social e abordam questões da atualidade.
Banksy usa uma série de técnicas distintas embora a maior parte das suas obras seja feita em stencil.
Quem é Banksy? O que se sabe sobre a identidade do artista?
Banksy é conhecido pelos seus trabalhos de street art engajados. Até hoje não se conhece a identidade do artista, sabe-se, porém, a sua origem: nascido em Yate, na Inglaterra (embora Bristol o tenha arrebatado). Seus grafites começaram a aparecer em 1993, fazendo referência a sociedade contemporânea com forte viés revolucionário e anti guerra.
"Os maiores crimes do mundo não são cometidos por pessoas que violam as regras, mas por pessoas que seguem as regras. São as pessoas que seguem ordens que soltam bombas e massacram aldeias."

Banksy
As obras são instalações ou pinturas feitas através de stencil, muitas vezes com frases escritas. Os lugares onde as peças são feitas também são fundamentais para a compreensão da criação.
Banksy não está no facebook ou no twitter ou em qualquer rede social e não é representado por nenhuma galeria. Os trabalhos nunca são assinados. Existe, no entanto, uma conta verificada no Instagram com o nome Banksy.
Há quem diga que o seu nome verdadeiro é Robin ou Robert Banks, mas essa é apenas uma suposição. Outras pessoas suspeitam que a identidade verdadeira do artista seja Robin Gunningham. Há ainda a tese que Bansky seja Robert Del Naja, vocalista do grupo de música eletrônica Massive Attack.
A seguir algumas de suas obras mais famosas:
Kissing Coppers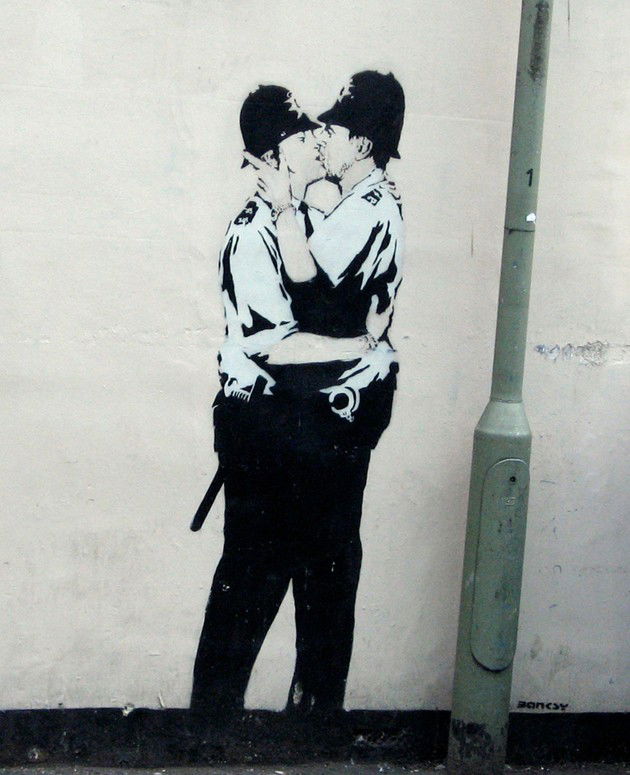 Um dos mais controversos trabalhos de Banksy é Kissing Coppers, pintado em Brighton (Inglaterra). A imagem transparece o carinho entre dois policiais fardados que se beijam sem qualquer constrangimento. O trabalho foi vandalizado e recuperado algumas vezes até que o dono no bar onde a peça se encontrava resolveu vende-lo. O valor não foi oficialmente divulgado, mas supõe-se que seja entre meio milhão e um milhão de dólares.
Soldier throwing flowers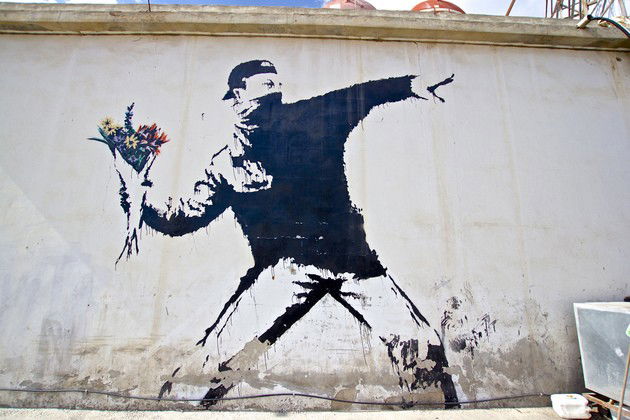 Banksy esteve na Palestina algumas vezes e em todas elas deixou trabalhos espalhados pelos muros. Acredita-se que a primeira ida do artista tenha sido em agosto de 2005, quando pintou trabalhos na barreira que divide Israel da Palestina. Soldier throwing flowers mostra um cidadão de rosto coberto atirando um ramo de flores, ao invés de um objeto de guerra.
 Brexit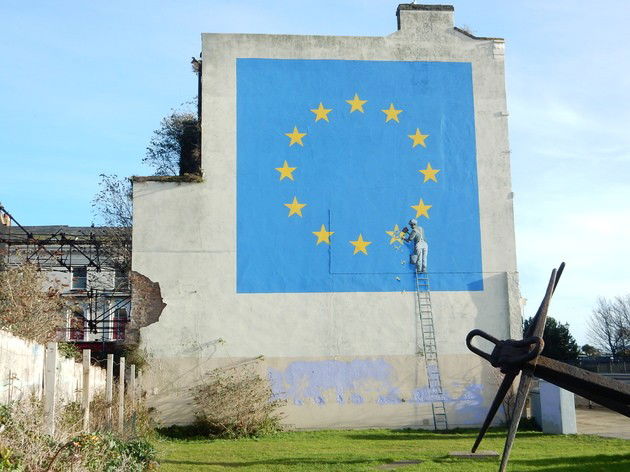 Pintado em Dover, em um porto que liga o Reino Unido e a França, o bem humorado painel faz referência a saída da Inglaterra da União Europeia. O trabalhador, através de uma longa escada, sobe para apagar uma das estrelas da bandeira da comunidade europeia.
Shop Until You Drop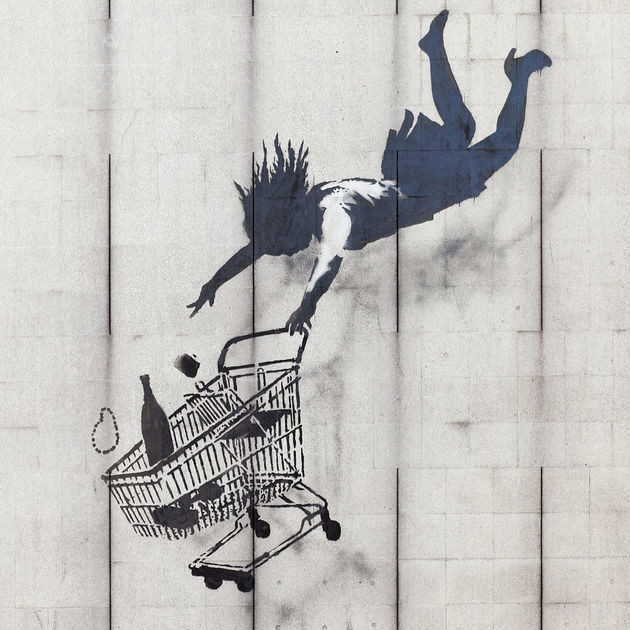 Pintado em Londres, em 2011, o stencil está disposto na lateral de um prédio enorme e mostra uma mulher que fazia compras caindo. Já sem um sapato, os itens no carrinho também vão se dispersando com a queda. Banksy é conhecido pelo seu viés anti capitalista.
Guantanamo Bay Prisioner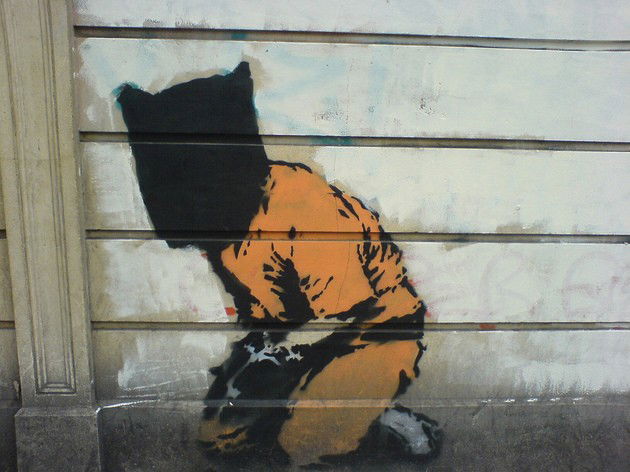 Pintado no dia 18 de maio de 2007 no Exmouth Market, em Londres, o stencil lembrando os prisioneiros da prisão norte americana Guantanamo não foi o único ato de ativismo em relação ao tema.
No dia 8 de setembro de 2006, Banksy conseguiu que o seu assistente Thierry Guetta colocasse um boneco inflável vestido com o uniforme de Guantanamo dentro da atração Rocky Mountain Railroad, na Disneylândia de Orlando.
Sweep It Under The Carpet
Feito em Hoxton, East London, em 2007, o painel mostra uma empregada jogando o lixo supostamente para debaixo da cortina. O divertido stencil dá a impressão ao espectador de que o muro estaria coberto por um pano branco.
 Toxic rat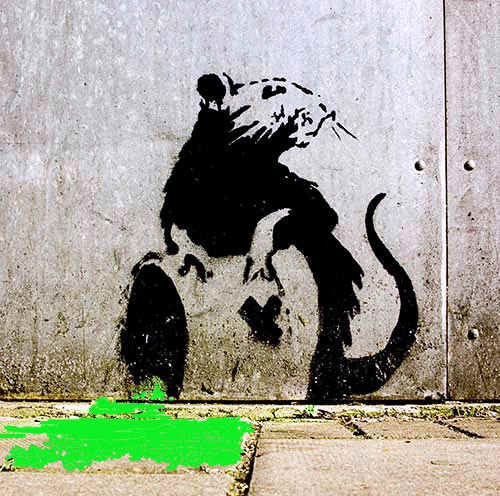 Banksy já pintou uma série de ratos ao redor do mundo, o da imagem foi realizado em Canden, Londres. Além dos ratos, o artista costuma pintar macacos.
Frequentemente os ratos são comparados a espécie humana porque se espalham e estão em todo lugar. Talvez as imagens mais icônicas de Bansky sejam os ratos anarquistas.
 Steve Jobs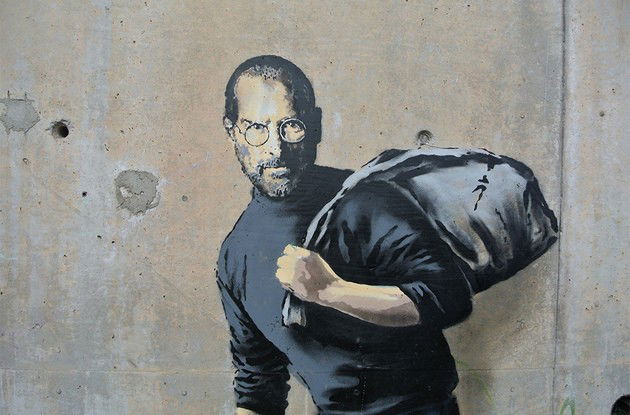 Pintado em Calais, no norte da França, onde está situado um campo de refugiados, Bansky retrata o CEO da Apple. O stencil lembra que Steve Jobs era filho de Abdulfattah John Jandali, um imigrante sírio. Embora o artista fale muito raramente em público, nesse caso se manifestou sobre o trabalho:
"Somos muitas vezes levados a acreditar que a migração drena os recursos de um país, mas Steve Jobs era filho de um imigrante sírio. A Apple é a empresa mais rentável do mundo, paga mais de 7 mil milhões de dólares por ano em impostos e só existe porque autorizaram a entrada a jovem de Homs."
 Thinker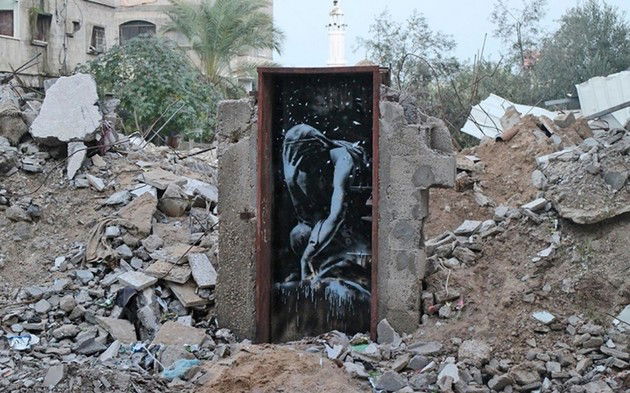 Disposta em Gaza, a peça é uma referência a clássica escultura O pensador, de Rodin. O trabalho foi realizado em 2014, após a guerra.
Essa não foi a primeira vez que Banksy esteve no território preocupado com a causa. Em agosto de 2005, nove imagens foram feitas na Palestina, a mais famosa delas talvez seja a imagem abaixo.
Stop and search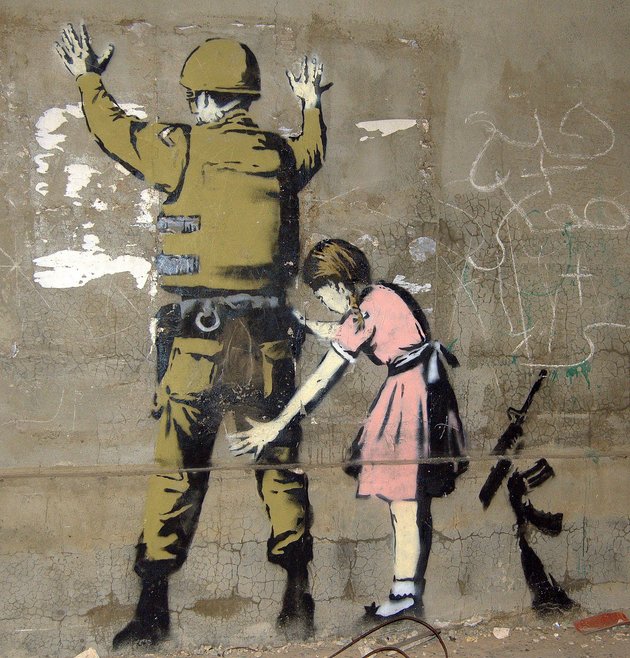 Pintado em 2007 em Bethlehem, Palestina. O stencil de Banksy promove uma inversão de papéis: nele é a menina que encosta o soldado ao muro e o revista. Vale lembrar que o território escolhido pelo artista para intervir vive em permanente tensão entre judeus e árabes.